PALO pre-designed and engineered ADUs
save you time and money

We offer award winning turnkey design-build and custom solutions for making the most out of your backyard.
Choose from one of our existing plans to reduce soft costs and permitting time by up to 50%.
Plans start at $12k.
Designs range from tight footprint studios to 1,150 SF 2BR/1.5BA homes.


Principles of Good ADU Design
1. Design for energy efficiency: PALO routinely exceeds efficiency requirements.
2. Be a good neighbor: PALO considers openings thoughtfully for views, light, ventilation and privacy.
3. Create spaces of calm: PALO improves quality of life by designing for noise reduction.
4. Design for today and tomorrow: ADUs can have many lives if designed with flexibility in mind.
5. Design for climate: PALO makes the most of exterior space and the relationship between your home and ADU.
How We Work
Opt. 1: Reverse Floor Plan

1,145 SF | 3 BR / 3.5 BA
A top floor open kitchen and living space (reverse floor plan) opens onto a 130 SF exterior deck to make the most of light, air and views. 2 Bedrooms with En-suite bathrooms on the second floor allow for privacy and flexible use as a rental unit. A ground floor 1-car garage and 250 SF junior unit provides additional flexibility for storage, income, workshop or guests. The small footprint (the size of a 2-car garage) leaves the ground open for play, planting and circulation.
Opt 2: Loft over Garage
590 SF | 1 BR / 1 BA
A design that minimizes footprint, but maximizes space. A double height studio loft over a 2-car garage with its own 55 SF deck and entry. This ADU option can be built over an existing or new garage.
Opt 3: Second Home
1,150 SF | 2 BD / 1.5 BA
Open loft style or 2 BR 2-story home with an optional 300 SF garage/outdoor living space.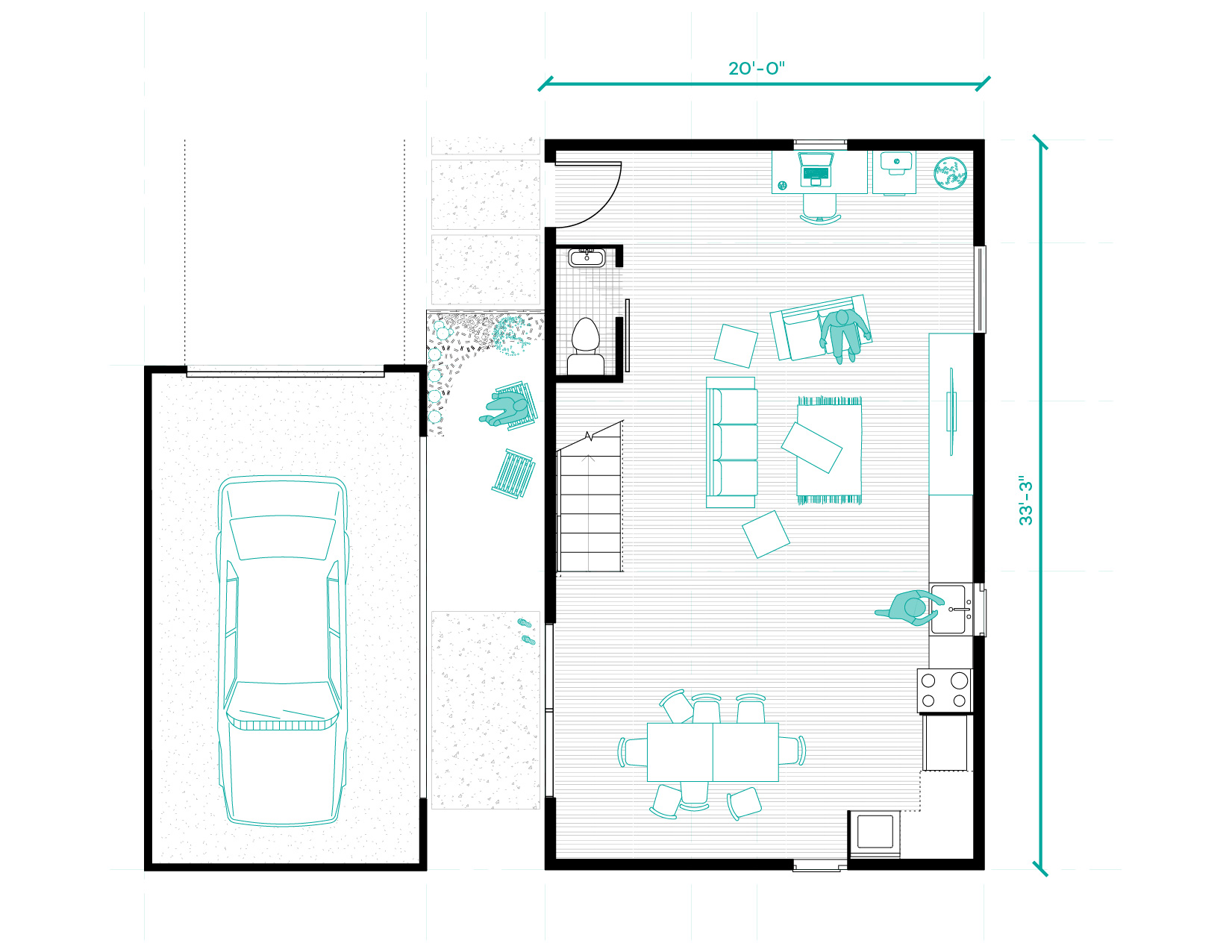 Opt 4: The Suites

600 SF | 2 BD / 2 BA
Lofted rooms with attached full baths provide a variety of ways to use the space from renting and/or personal use as an art studio plus bedroom. An optional 270 SF of loft space gets even more value out of this tight footprint, maximum effect design. Indoor and outdoor living are the focus, with an outdoor dining space and a 75 SF deck.
Don't see something you like?

Contact us to discuss custom options.